Financial Modeling Program
The global training leader in financial modeling for careers in investment banking
Want to advance your career in investment banking? The International Finance Institute is a global leader in financial modeling training that is professionally recognized by top-rated organizations.. Learn more about our finance training programs here.
No other educational organization offers the international locations, the seasoned professional bankers who instruct our students, or the assistance we provide in securing a sought-after job in the finance industry.
Our training program is the same curriculum used to train analysts by bulge-bracket investment banking firms.
Instruction by senior bankers in small classes that allow for personalized learning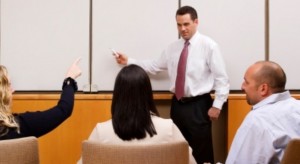 We know that the best way for you to learn investment banking is to study with highly experience investment bankers in a way that allows them to give you personal attention.
As a result, we select our banker-instructors based on their knowledge and success in the finance industry. They've done hundreds of financial transactions worth many billions of dollars. Now, they want to share their expertise with our students and guide them to successful careers in finance.
We combine the experience and dedication of our banker-instructors with ideal course content.
You'll learn from their own experiences about best practices in investment banking, private equity management, and corporate finance and strategy. You'll gain skills in comprehensive valuation analysis, cash flow on the sell side and buy side, LBO on both sides, and merger modeling.
In fact, your classes and your interaction with your instructors will give you the experience that only a financial analyst or associate would gain during an entire year of on-the-job experience.
So you'll have the skills you need to launch a successful career in finance or to take your ongoing career to the next level.
The optimal program for your training in finance
Our banker/instructors have taken their many years of experience in financial transactions and created the ideal program to train you for a rewarding career in finance. It's the reason we're the global leader in live, hands-on financial training.
In our training program, you'll be:
Taught by experts in the finance industry, who have extensive transaction experience.
Enrolled in the most thorough practical training program in existence.
Receive unlimited support from our banker/instructors
Trained in the same financial modeling program utilized by the most successful investment banks, private equity firms, and hedge funds.
Assisted by the full-time availability of our staff, who will give you steady support to enable your career success.
Studying program content personalized for you
Provided with expert help in finding a position in the financial industry, including help with your resume, interview preparation, with mock interviews, and additional help with placement.
Able to complete your studies on your schedule, because your class sessions will be customized to work with your schedule
More benefits of our course:
When you complete our 30 hours of live training, you'll be proficient in financial modeling and valuation analysis. We guarantee you will!
You're welcome to take makeup classes or to retake classes as often as necessary – at no additional charge. And you can take or retake our program at any of our convenient global locations.
All course materials are included with your tuition
When you study with us, you receive all of the following at no additional cost:
30 hours of personalized training in financial modeling taught by senior banking professionals. Our unrivaled intensive training program is made up of 6 sessions that are each 5 hours long and presented over a 3-week period.
eCD-ROMS to accompany all of your class materials and financial models
Training manuals and case studies, including material on distressed security analysis.
Excel model templates, which can be reused and modified.
All prerequisite materials for each course, emailed to you in advance.
Personal career advice, including assistance with your resume and interview skills, as well as assistance with professional contacts.