Investment Banking Training
ATTEND LIVE CLASSROOM TRAINING IN CORPORATE VALUATION AND FINANCIAL MODELING BY SUCCESSFUL INVESTMENT BANKERS – WITH CONVENIENT GLOBAL LOCATIONS.
Advance your professional career in finance with live hands-on investment banking classes at the International Finance Institute. Our accredited international banking school offers convenient global locations to hone your skills in investment banking. Join our seasoned experts for quality investment banking training in financial modeling, corporate valuation, mergers and acquisitions (M&A), leveraged buy-outs (LBO) and more.
You'll learn why investment banks, corporations, and leading business schools partner with us to teach the specific skills required for a successful career in investment banking.
WHY YOU SHOULD CHOOSE THE INTERNATIONAL FINANCE INSTITUTE
The International Finance Institute is the global leader in finance and investment banking training. We conduct instructor-led training sessions in major cities worldwide. So one of our training centers is very likely convenient to you.
BENEFITS OF OUR INVESTMENT BANKING TRAINING PROGRAM:
Live, hands-on classroom training in corporate valuation and financial modeling by instructors who are highly experienced investment banking professionals.
Skills you can apply immediately, so you'll be seen as a highly employable, valuable asset in the investment banking industry.
Expert help landing your first job and exclusive access to coveted active job openings in finance.
Concentrated 30-hour course — featuring live, hands-on classroom training in corporate valuation and financial modeling by instructors who are highly experienced investment banking professionals
OUR INSTRUCTORS ARE SEASONED EXPERTS IN THE SKILLS YOU NEED TO SUCCEED IN YOUR CAREER IN FINANCE
INCLUDING:
THE MANY ADVANTAGES OF IFI'S INVESTMENT BANKING BOOTCAMP
Live classroom sessions provide the focused interaction with your instructor that simply isn't possible in an online environment.
Our students learn the most current methods in the banking industry, taught with examples from the real-world experience of our bankers.
Valuation and financial modeling training taught by professionals with billions of dollars' worth of transaction experience
Our classes are limited to 18 students, so our instructors can give you the personal attention you need to maximize your learning.
Since many of our students already work in investment banking and other areas of finance, you can network to build relationships. Some of our students even land their first job before they finish our course.
You're invited to ask questions and can be assured that they'll be answered thoroughly. Since the subjects are complex, follow-up questions are also welcomed.
You'll receive job guidance and placement assistance by experts who will show you how to present your skills on your resume, master interview skills, select the most appropriate firms to apply to – including hundreds of midsize banks, PE firms, boutiques and equity research firms – and know exactly how to add value to the firm that hires you from day one.
Lifetime guarantee. You can retake any of our courses at any time in any of our worldwide locations at no additional charge. So you can deepen your understanding of any subject or refresh your knowledge of it to keep your skills up to date.
MANY INVESTMENT BANKS AND OTHER FIRMS REQUEST RESUMES FROM OUR GRADUATES
Our concentrated 30-hour course provides you with an unrivaled fast track to the career you want in investment banking or a convenient way to advance your existing career.
We have ongoing relationships with many investment banks, private equity firms, and hedge funds. In fact, they often retain us to train their employees.
As a result, they often post openings with us and inquire about the resumes of our graduates. So you'll have an inside track to landing a high paying job in finance. In fact, many graduates of our program have gone on to excel at some of Wall Street's most distinguished firms. Including: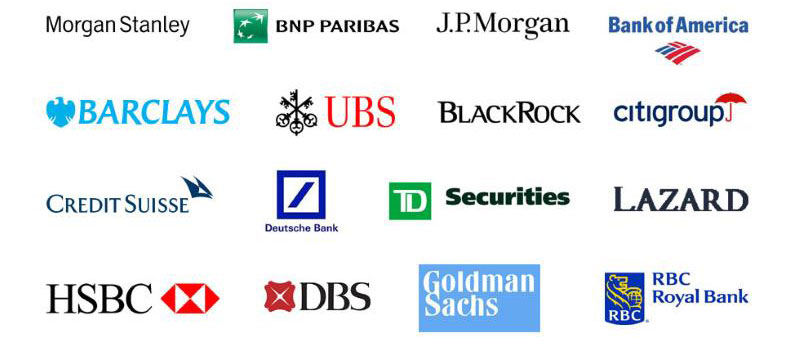 We're proud of our leadership in helping our graduates find full-time jobs and in knowing that many of them have gone on to reach high positions in investment banking, private equity, hedge funds and other areas of finance.
OUR COURSE CAN HELP LAUNCH OR ADVANCE YOUR CAREER IN ANY OF THESE AREAS OF FINANCE:
Call IFI now — and get on the fast track to a rewarding career in investment banking.
Why Choose IFI Investment Banking Programs
IFI North America
Two Prudential Plaza
312-340-0785
100 Pine Street
415-358-1659
Oppenheimer Tower
310-807-0290
IFI Europe
Business Centre OBC Suisse
+41 44 508 3376
Interpred, WTC
+359 2 489 0124
IFI World
N Mandela Sq
+27 11 568 2369
Bligh Centre
+61 29 119 2946